Chelsea Weathers Interviews Margaret Meehan
Clip from The Bride of Frankenstein, dir. James Whale, 1935
Your two digital collages for Unfashioned Creatures combine images from fashion magazines, historic photographs and images of monsters. What led you to use these specific types of images for these collages?
I saw a great video clip of Guillermo del Toro giving a lecture about The Bride of Frankenstein where he says, "The Bride of Frankenstein [is] the cold uncaring future and the creature is the past trying to connect." I think this best encapsulates the premise for my digital collages. Both works deal with memory (short and long term) and the erasure of history.
I've always been interested in monsters and the science of teratology. When I'm working I tend to ask questions like, Why are some bodies considered horrific and others beautiful? And how are those physical traits projected upon human nature? Mary Shelley's monster in Frankenstein was feared because of his body despite the fact that he was sweet and intelligent. His isolation and eventual rejection from the town created his shame and pushed him to act out violently.
When we think of Chanel we think style, beauty and elegance, but Coco Chanel was a known anti-Semite who is rumored to have been a Nazi spy. She and Frankenstein's monster are the opposite of our expectations. I chose collage as a strategy because collage—the manipulation of images, in particular—is how Chanel markets its brand and the memory of its founder. I manipulated the imagery of my sources in a way that is analogous to how Chanel the company has crafted its own image, by editing out or altering certain things that wouldn't serve the company's best interests.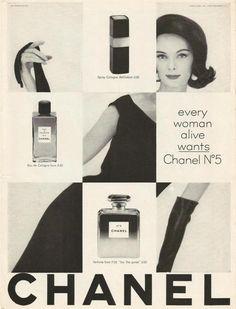 An advertisement for Chanel No. 5, 1962
So Chanel in this context also becomes an analogue to Frankenstein's monster; both are figures with a double identity in the sense that they subvert what people might expect from them judging by their looks. How did you first connect Chanel to that idea of the monster?
I love Coco Chanel's designs and the designers that followed her. I've always kept track of the current runway shows and dreamed of dressing in Chanel. What Karl Lagerfeld does, including the spectacle of the runway, is amazing to me. But over time I started to read stories about Chanel's years during and after World War II. My love for the brand has not changed, but it is more informed. And to be fair, several other designers cooperated with the Nazis––most famously Hugo Boss, who was a Nazi himself and designed the uniforms for the Third Reich. However, Hugo Boss the company acknowledges its past while Chanel disputes and ignores Coco Chanel's involvement. That difference is an important part of my work. We as consumers deserve to be informed so that we can try to understand the past and choose our own place or culpability in relation to it.
These digital collages also include sound, which corresponds to specific parts of the collage and shifts as the viewer interacts with the images. How did you decide which audio elements to add, and what was your process of collaborating with Lauren Green and Eric Harvey?
Chanel's company and Shelley's monster were both built from the bones of others. This realization made me remember photographs of piles of hair and bones at Nazi concentration camps and the song Dem Bones, which was an African American spiritual:
Head bone (dis)connected from the neck bone
Neck bone connected from the shoulder bone
Shoulder bone connected from the back bone
Dem bones, dem bones gonna walk around
Dem bones, dem bones gonna rise again
Now hear the word of the Lord
I asked both Eric and Lauren to start with this song as the basis for their new compositions. Then I added There's Going to be the Devil to Pay by Fats Waller to Lauren's references for the Devil to Pay collage. And I added I Want You to Want Me by Cheap Trick to Eric's list for our collaborative collage Dry Bones. After they sent me some initial tracks I started my work based on the mood I heard in their music.
Both of the collages are about dualism and I played with this idea in the images I chose. For example, Lauren's interpretation of the music was haunting and melancholy. When I started looking at pictures of the catwalk and fashion shows and the procession of models down the runway, I thought of of the Ugly Carnivals, a bizarre ritual that originated in France after its liberation from the Germans in 1944. It involved the shaming of French women who collaborated with the Nazis by publicly shaving their heads. I thought of the ways that hair is tied to gender and sexuality. As Coco Chanel said, "A woman who cuts her hair is about to change her life."
Eric's collage Dry Bones is meant to address love and acceptance and what we do for those things. The monster in the film The Bride of Frankenstein looks for companionship and connection and when he finds it in the bride he also discovers rejection. The campy pop-song yearning in I Want You to Want Me could symbolize the monster's longing but also Coco Chanel's love for a Nazi Officer:
Feelin' all alone without a friend, you know you feel like dying
Oh, didn't I, didn't I, didn't I see you crying?
I want you to want me
I need you to need me
I'd love you to love me
I'm begging you to beg me
It could also be about the women and men all over the globe who forgive and forget Chanel's true past and instead love her legacy. Or it could be about the desire that the company creates for us to want to consume Chanel's products.
More of Meehan's research for Unfashioned Creatures is available here.