It is forbidden to walk on the grass. It is not forbidden to fly over the grass.
-- Augusto Boal, Games for Actors and Non-Actors (1992).
Print annual no. 5
The Audience is Always Right
The Post-Living Ante-Action Theater Manual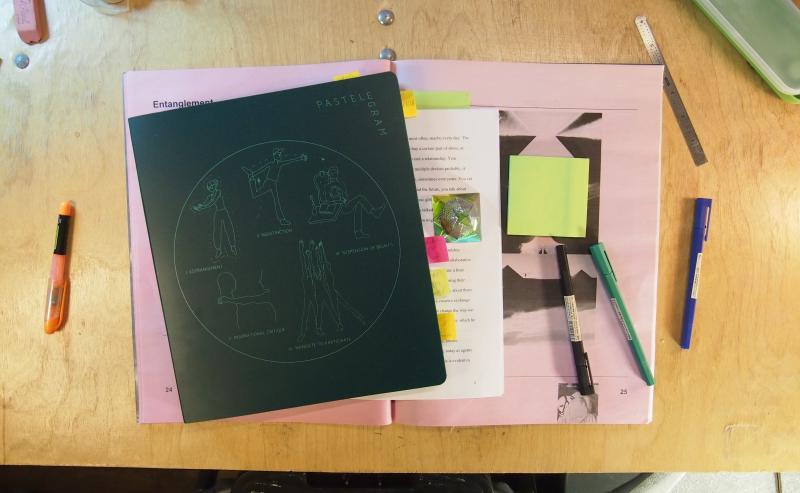 The performance collective My Barbarian co-edited Pastelegram's fifth print issue. Entitled "The Audience is Always Right," the issue is a manual and sourcebook for the group's Post-Living Ante-Action Theater (PoLAAT) project: a pedagogical and performative model using a theatrical workshop process.
My Barbarian developed PoLAAT in 2008 while studying activist theatre and performance art of the 1960s and 1970s. Amidst Bush-era anxieties they looked to that era's metaphysical hopes, radical political critique and fight for social justice to consider what a transformative cultural practice might be today.
PoLAAT's five-stage technique—Estrangement, Indistinction, Suspension of Beliefs, Mandate to Participate, Inspirational Critique—incorporates song, dance, levitation, trust circles, masks, signage and texts. "The Audience is Always Right" includes exercises, study questions and sheet music developed by My Barbarian for each stage as well as notes and images from earlier PoLAAT workshops—which have occurred across several countries.
"The Audience is Always Right" also features a sourcebook that collects and narrates texts from PoLAAT's precedents, including the Living Theatre, Rainer Werner Fassbinder's antiteater, Augusto Boal's Theatre of the Oppressed and performance groups such as Bodacious Buggerrilla, Eleanor Antin, Free Southern Theater, Split Britches and El Teatro Campesino.
Contributors: Leah Abir, Biba Bell, Eric Colleary, Catherine Damman, Geir Haraldseth, Andrés Fabián Henao Castro, Megan Hoetger, Eungie Joo, Alex Klein, Joshua Lubin-Levy, Allison Myers, Nizan Shaked, Roberto Tejada, Catherine Wagley, Adrienne Walser, Chelsea Weathers, Megan Whitmarsh, Robin Kathleen Williams.
Layout designed by Jeffrey Blocksidge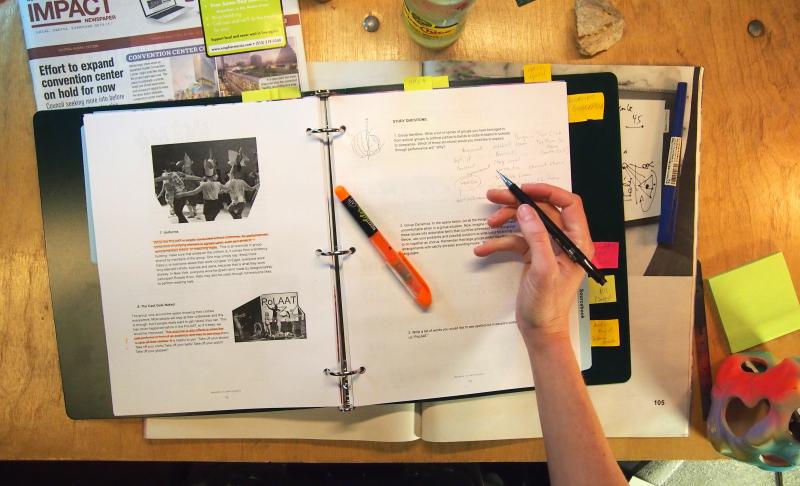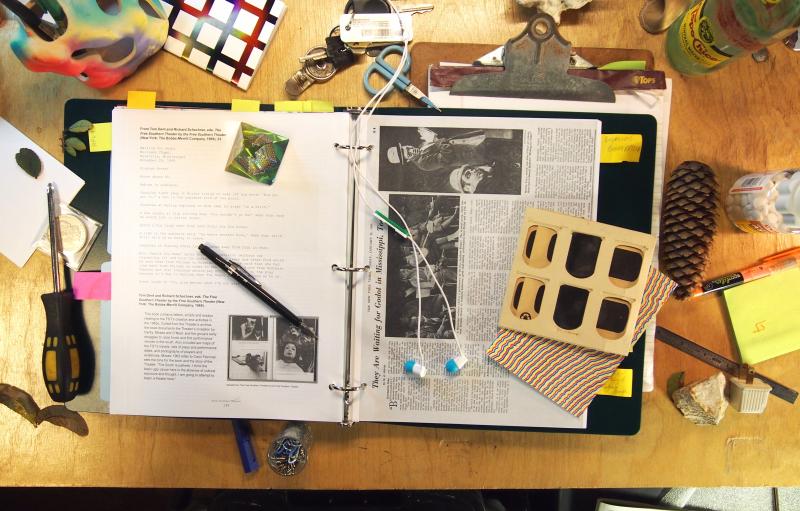 My Barbarian is an LA and New York-based trio whose performances enact historical narratives and rehearse social situations. The group draws on performance art, political theater, queer camp, institutional critique, folk plays, musicals and music videos to construct playful performances that encourage both imagination and presence. They have presented their work nationally and internationally, in solo shows at Museo El Eco in Mexico City, the Hammer Museum in LA, Participant Inc. in New York; and in exhibitions including the 2014 Whitney Biennial, the 2010 Baltic Triennial, Performa 05 and 07 and many others.
Malik Gaines is an assistant professor of Performance Studies at New York University's Tisch School of the Arts. Gaines holds a Ph.D. in Theater and Performance Studies from UCLA and an MFA in Writing from CalArts. His forthcoming book, Excesses of the Sixties: Black Performance and the Transnational Imagination, considers the legacy of the sixties as a location for radical acts. Gaines has written numerous articles and essays for journals including Art Journal and Women and Performance, and for magazines, museum publications and artist's books. Gaines also does solo music performance wor, and collaborates with Alex Segade under the name Courtesy the Artists, with projects at The Studio Museum in Harlem, MoMA PS1, The Kitchen and others.
Jade Gordon has served as faculty member at the Stella Adler Academy of Acting in Los Angeles and the School of Theater at the CalArts in Valencia, California. She holds a BA in Theater and an MA in Applied Theater Arts from the University of Southern California. Gordon studied at Augusto Boal's Center for the Theater of the Oppressed in Rio De Janeiro and leads Theater of the Oppressed workshops in housing facilities, high schools, community centers and art spaces. Gordon has appeared in film and TV roles and received an Independent Spirit Award nomination for her performance in Allison Anders's "Sugartown." Gordon is also co-owner of Wombleton Records, a collectible vinyl record shop in Highland Park, CA.
Alexandro Segade is an artist whose work spans fields of video, theater and visual art, with an emphasis on collaboration across disciplines. Segade is co-chair of the Film/Video department at Bard College's Milton Avery Graduate School of Arts and teaches in the BFA program at Parsons the New School in New York City. Segade earned a BA in English from UCLA and an MFA in interdisciplinary studio art from UCLA where he studied with conceptual artist Mary Kelly. In addition to My Barbarian, Segade collaborates with Malik Gaines under the name Courtesy the Artists, with projects at The Studio Museum in Harlem, MoMA PS1, The Kitchen and others. Segade has presented his own performance and video work at the TBA Festival in Portland; at LAXART, REDCAT and Artist Curated Projects in Los Angeles; UC Riverside and Armory Center for the Arts in Pasadena; Migrating Forms at Anthology Film Archive in New York; Yerba Buena Center in San Francisco and Vox Populi in Philadelphia.