We don't want to be Stars but parts of constellations.
-- Gloria Anzaldúa
Print annual no. 6
Women on the Edge of Time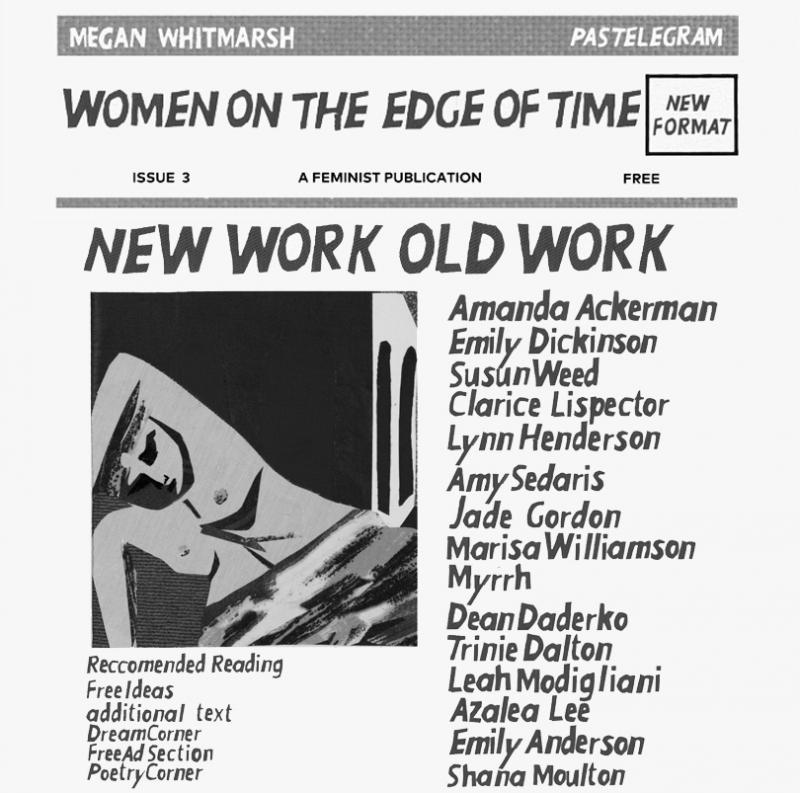 Pastelegram's sixth issue is co-edited by artist Megan Whitmarsh. It will be called "Women on the Edge of Time."
Women on the Edge of Time will collage voices from the past, present and future through fiction, essays, images, interviews and worksheets. Styled after serial feminist publications such as Heresies and Country Women, the magazine will borrow these publications' unvarnished and non-conformist forms, forms which underline a politics of liberation. Choosing as its theme the "time-traveling women," the collective voice expands, reaching into the past and projecting into an imagined future. Conscious recycling offers a panoply of voices speaking with or around the experience of identifying as a woman across time.
Women on the Edge of Time will appear in two parts. First, a thirty-page newsletter with contributions from Amanda Ackerman, Susun Weed, Dean Daderko, Trini Dalton, Leah Modigliani, Amy Sedaris, Marisa Williamson and others. Second, an large size (50 x 70 inch) version of the newsletter made of fabric and embroidered. A distilled version of the printed multiple, the fabric version encourages readers to gather together, slow down and magnify reading through an interactive communal experience. The conversations that occur through the magazine's text can expand to move between readers. Starting in September 2016, the fabric magazine will appear in Austin, Los Angeles, Tel Aviv and other locations TBD.
Newsletter layout designed by Jeffrey Blocksidge
◦°˚\(*❛‿❛)/˚°◦
Los Angeles-based artist Megan Whitmarsh works predominantly in textiles, using hand embroidery and fabric to create wall pieces and sculptural works which refer to contemporary and past cultural history. She has worked with curators Robert Wilson, Todd Oldham, Dean Daderko and Adi Nachman, among others, and has had projects commissioned by Art Basel Miami (Wolfsonian Museum), the Watermill Center and David Byrne. Whitmarsh has shown in galleries and museums internationally including recent exhibitions in New York, Los Angeles, Amsterdam, Brussels, Zurich, Valencia, Malmo and Tokyo.
Megan Whitmarsh, Flash Art/Dorothy Iannone (fictionalized magazine covers from 'the past'), 2014​.​
30" x 40" x 2", embroidery thread, fabric and foam​.