Leon: [trying to make Ninotchka laugh] Maybe the trouble isn't with the joke, maybe it's with you. I'll give you one more chance. When I first heard this joke, I laughed myself sick! Here goes. A man comes into a restaurant. He sits down at the table and he says, 'Waiter, bring me a cup of coffee without cream.' Five minutes later, the waiter comes back and says, 'I'm sorry, sir, we have no cream. Can it be without milk?' [no reaction from Ninotchka]
Leon: Oh you have no sense of humor! None whatsoever. Not a grain of humor in you. There's not a laugh in you. Everybody laughs at it but not you!
[Leon leans backward on the shaky table behind him and accidentally topples over in his chair, causing everything to crash to the floor. Ninotchka finally laughs.]
Leon: What's so funny about this? [he starts laughing]

-- Ninotchka (1939)
Print annual no. 2
Wipe Out
GUEST ARTIST
Ricky Yanas
2012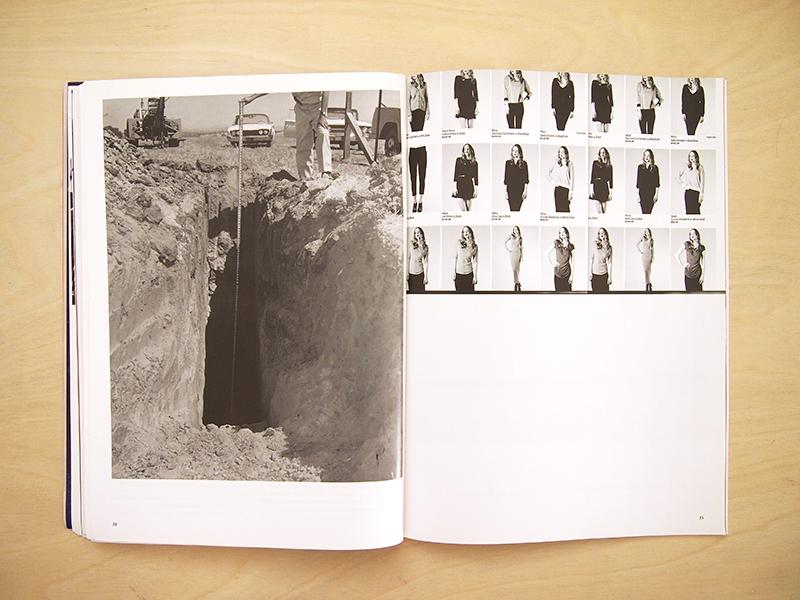 Ricky Yanas' work for Pastelegram no. 2, "Wipe Out," lifts the design architecture of TIME's spreads, as well as the advertisements that form so much of that magazine's contents. He isolates small details and graphics in the magazine and blows them up across two pages, or takes an advertisement and erases significant parts of its content. He takes the banal and fills it with new meanings; yet as opposed to the quickly-apprehended and seamless meanings offered by TIME, Yanas' new works don't direct viewers to one clear interpretation.
Yanas plays with TIME's structure to varying degrees. Sometimes his changes are almost imperceptible and sometimes they are drastic. He reveals TIME's grammar, which always channels the information that TIME purports to convey so objectively. For Yanas, the way to do this is to push at the magazine's rules; to break is perhaps to reveal.
Gloria: Do you want to come up for a coffee?
Andy: I don't drink coffee.
Gloria: I haven't got any. [Gloria and Andy have sex]

-- Brassed Off (1996)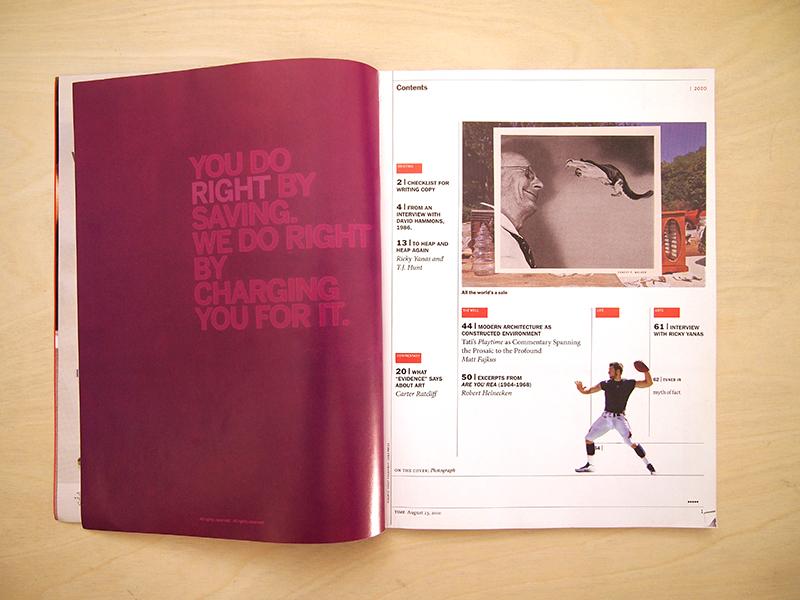 Contents
CHECKLIST FOR WRITING COPY from Creative Strategy in Advertising (2011)
by Bonnie L. Drewniany and A. Jerome Jewler

FROM AN INTERVIEW WITH DAVID HAMMONS (1986)

TO HEAP AND HEAP AGAIN
by Ricky Yanas and T.J. Hunt

WHAT "EVIDENCE" SAYS ABOUT ART (2006)
by Carter Ratcliff

MODERN ARCHITECTURE AS CONSTRUCTED ENVIRONMENT: TATI'S PLAYTIME AS COMMENTARY SPANNING THE PROSAIC TO THE PROFOUND
by Matt Fajkus

EXCERPTS FROM ARE YOU REA (1964 – 1968)
by Robert Heinecken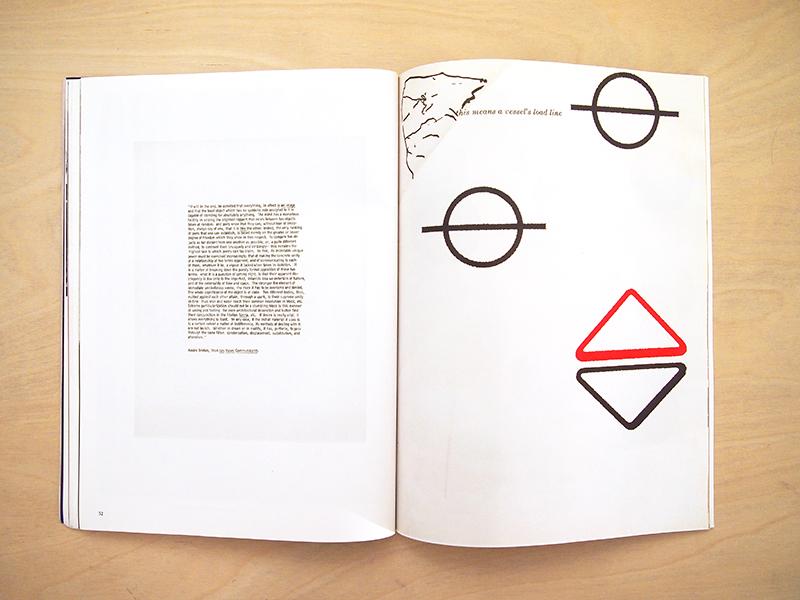 Ricky Yanas was born in San Antonio, Texas. He earned an MFA in Photography from the University of Texas at Austin in 2011. His work most recently appeared in Thought Cloud: YLA 15, a show curated by Alex Freeman at the Mexic-Arte Museum. He has been recognized on several occasions by people he doesn't know. He currently occupies his time doubling, repeating, cutting, ripping, pasting, taking pictures, taking it slow, moving too slow, bumping into things, and messing things up.
Layout designed by Jeffrey Blocksidge
All photos by Jeffrey Blocksidge