My Barbarian in conversation with Dr. Cherise Smith
UT Campus (Austin), GWB 2.206, 210 W 24th St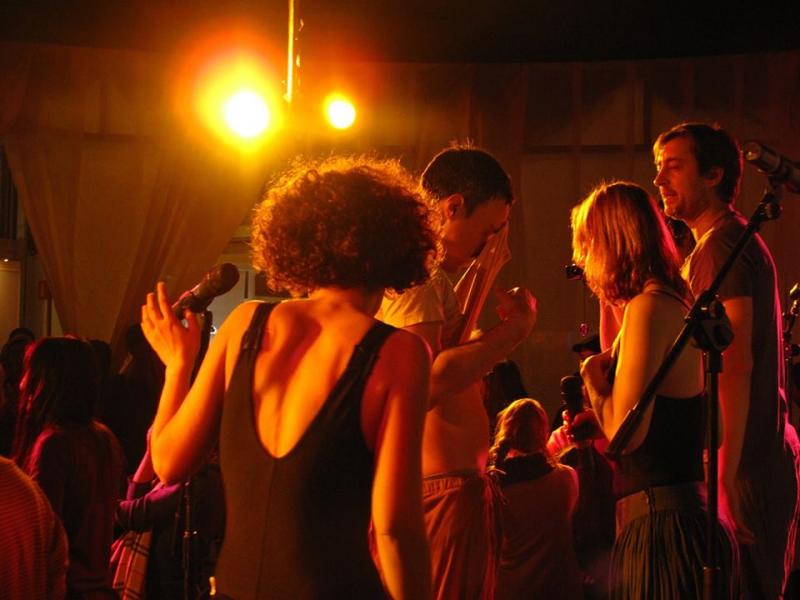 My Barbarian will appear in conversation with Dr. Cherise Smith during their week-long residency at the Visual Arts Center at UT Austin. The panel will be moderated by Pastelegram editor Ariel Evans.

My Barbarian's pedagogical model and self-consciously codified technique, called the Post-Living Ante-Action Theater (or PoLAAT for short), takes an interest in how a culture "performs itself." In Austin's case this applies to our city's reputation as "The Live Music Capital" and the politics behind that designation.

As the workshop's participants develop theatrical and musical techniques for thinking about, acting within and breaking open cultural structures, the panel offers the public further insights in to My Barbarian's practice.

* * *
My Barbarian is an LA and New York-based trio whose performances enact historical narratives and rehearse social situations. The group draws on performance art, political theater, queer camp, institutional critique, folk plays, musicals and music videos to construct playful performances that encourage both imagination and presence. They have presented their work nationally and internationally, in solo shows at Museo El Eco, Mexico City, the Hammer Museum, LA, Participant Inc., New York; and in exhibitions including the 2014 Whitney Biennial, the 2010 Baltic Triennial, Performa 05 and 07, and many others.

Associate Professor Cherise Smith specializes in American art after 1945, especially as it intersects with the politics of identity, race, and gender. She directs the John L. Warfield Center for African and African American Studies and co-directs the Op-Ed Project. Her book, Enacting Others: Politics of Identity in Eleanor Antin, Nikki S. Lee, Adrian Piper, and Anna Deavere Smith (Duke University Press, 2011), examines how identity is negotiated in performance art in which women artists take-on the characteristics and manners of a racial, ethnic, and gender "other." Her articles have appeared in Art Journal, African Arts, and exposure among other venues. She was awarded the Getty Foundation Postdoctoral Fellowship, the Ford Foundation Diversity Postdoctoral Fellowship, and a Research Fellowship at W.E.B. Du Bois Institute for African American Research at Harvard University. She has worked in the curatorial departments of the Art Institute of Chicago, the De Young Museum, and the Saint Louis Art Museum among other institutions.

* * *
Support for My Barbarian's residency comes from the Ford Foundation, The John L. Warfield Center for African and African American Studies, Pastelegram, Church of the Friendly Ghost, Fusebox Festival, Texas Performing Arts at The University of Texas at Austin, through the O'Donnell Fund, and the Fine Arts Diversity Committee.