Print Annual No. 6 Launch Events
FOLLOW ME; IT'S NOT TOO LATE TO REMEMBER WHO I AM; YOU WILL NOT BE VANQUISHED EVEN THOUGH YOU ARE A MAN; REMEMBER THOSE MOMENTS WHEN I LED YOU AND YOUR EXALTATION; REMEMBER WHAT IT WAS THAT DREW YOU BACK AND WHAT IT WAS YOU LOST RENOUNCING ME; REMEMBER MY OPEN WOUND, REMEMBER MY SMILE; FOLLOW ME.
-- Dorothy Iannone, Follow Me, 1977.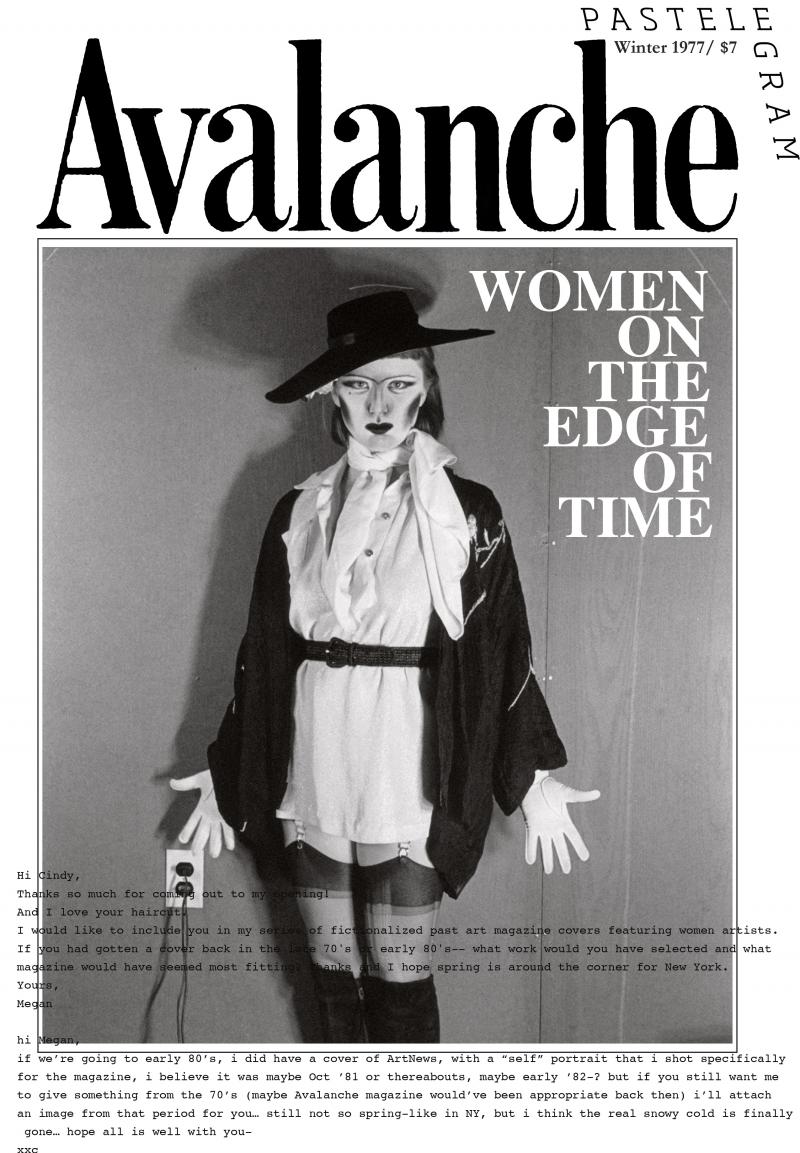 You are invited to celebrate the creation of Megan Whitmarsh's "Women on the Edge of Time" with three events in Austin on September's third weekend. The artist will be present.

ᑠ Saturday, 9/24, 1-4pm | Feminist T-shirt Workshop led by Megan Whitmarsh @ Permanent.Collection.

Use appliqué, embroidery and iron-on to make your own t-shirt re-contextualizing feminist messages from past and present with the aim of projecting them into the future. Claim your chest's/breasts' political space to send forth YOUR own message. Bring your own idea or use one from woman-positive history. Examples below.

Please register in advance by emailing ariel@pastelegram.org; Permanent.Collection's address will be sent to you in reply.

ᑠ Saturday, 9/24, 7-9PM | Launch party @ MASS Gallery. Free drinks available, it's a party.

ᑠ Sunday, 9/25, 4pm | Readings from "Women on the Edge of Time" and Q&A at BookWoman.

Whitmarsh and Pastelegram editor Ariel Evans will read, any one else who chooses to may bring their own favorite text from women's history to read. Any questions about the creation of "Women on the Edge of Time" may be asked, and they will be answered.

ᑠ ᑠ ᑠ

"Women on the Edge of Time" is co-edited by Los Angeles-based artist Megan Whitmarsh. It collages voices from the past, present and future through fiction, essays, images, interviews and worksheets. It is in two parts:

1. A thirty-page newsletter with contributions from Amanda Ackerman, Susun Weed, Trinie Dalton, Leah Modigliani, Amy Sedaris, Marisa Williamson and others.

2. A fabric version of the newsletter, which distills the contents of the printed multiple. It encourages readers to gather together, slow down and magnify reading through an interactive communal experience. The conversations that occur through the magazine's text can expand to move between readers. Austin is its first stop, before moving to shows in Tel Aviv, Los Angeles, and other locations TBA.